Foam Party Rentals In Madisonville, LA
Top Quality Foam Party Rentals Delivered To Madisonville, LA
Why Choose Us For Foam Party Rentals In Madisonville, LA
If you're looking to add an extra element of fun and excitement to your next event, look no further than The Jump Off! We specialize in providing amazing foam party rentals in Madisonville, LA. Our experienced team will make sure that everyone at your party has an unforgettable experience at your event in Madisonville, LA. Make any occasion unique and unforgettable by renting our foam party equipment – ideal for birthday celebrations or corporate events. With a professional setup included in each rental, all you need to do is enjoy your party. Book now with The Jump Off!
At The Jump Off, we prioritize safety when it comes to Foam Party Rentals. Our team meticulously inspects every unit before renting it out, giving you complete peace of mind during your water slide experience. Additionally, we regularly disinfect and maintain our slides for added assurance. But wait, there's more! We also provide bounce house and obstacle course rentals, as well as foam parties, ensuring a great time for everyone at your event.
Make your next corporate gathering or backyard bash unforgettable with The Jump Off! Our Madisonville Foam Party Rentals can be booked for any length of time, ensuring there is fun for everyone. Book with us today and let us take care of the details while you enjoy quality time with family and friends. Contact us now to discuss our available rental options and get the party started!
Not Interested In Foam Party Rentals in Madisonville? Check Out The Other Awesome Rentals We Have!
Foam Machine Rental: Make your gathering or event unforgettable with our bubble foam experience! Creating lasting memories has never been easier. Our foam adds a unique touch to any occasion. We provide everything you need to elevate your event and make it extraordinary.
Bounce House Rental: Experience the thrill of jumping with our exciting range of themed bounce houses! Create unforgettable memories with your loved ones as you break away from the mundane and jump into boundless fun. Don't wait any longer to enjoy the classic bounce house experience – start making lasting memories today!
Water Slide Rental: Stay cool this summer by having a wet and exciting experience! Set up Big Inflatable Water Slides in your own backyard to create a fun aquatic playground. You'll have an unforgettable time with waterpark-level entertainment right at home. Your family and guests are sure to have a blast!
Combo Bounce House Rental: Are you looking for a way to add excitement to your special occasion? Consider renting a combo bounce house! It has both a slide and a bounce area, perfect for kids 13 and under. This option will give your young guests a memorable and fun-filled experience!
Obstacle Course Rental: Are you ready for an intense race to the finish? Test your speed and endurance and push yourself to the limit. Compete for the top spot and show what you're made of. Do you have what it takes to win?
What Makes Us The Clear Choice For Foam Party Rentals In Madisonville, LA
Here at THE Jump Off, we are committed to ensuring Madisonville, LA has access to the best Foam Party Equipment Rentals. We recognize that quality and safety are paramount for you and your family's entertainment – which is why our foam machines have been maintained according to stringent standards of performance and security. So don't worry – with us around, you can expect an enjoyable experience in a safe space! Crafted with long-lasting, easy-to-clean high-quality material. To guarantee that our customers in Madisonville, LA experience the best of what we have to offer, each foam machine receive two careful inspections; before it's rented out and after its return. With us, you can always rent with trust!
Our staff has extensive experience in party rentals and is ready to make your event a success. We'll assist you in choosing the perfect foam party package and provide all the necessary safety information for everyone to have a good time. Additionally, our customer service is available 24/7, so feel free to ask us anything you need.
If you're looking for an unbeatable and unforgettable party experience, The Jump Off in Madisonville, LA has got you covered! Our impressive foam machines plus our customer service excellence are all available at very affordable prices. Let us help make your special event a night to remember – don't hesitate anymore. Reach out today so we can get started on planning the perfect celebration with The Jump Off's outstanding services – we guarantee that you won't be let down!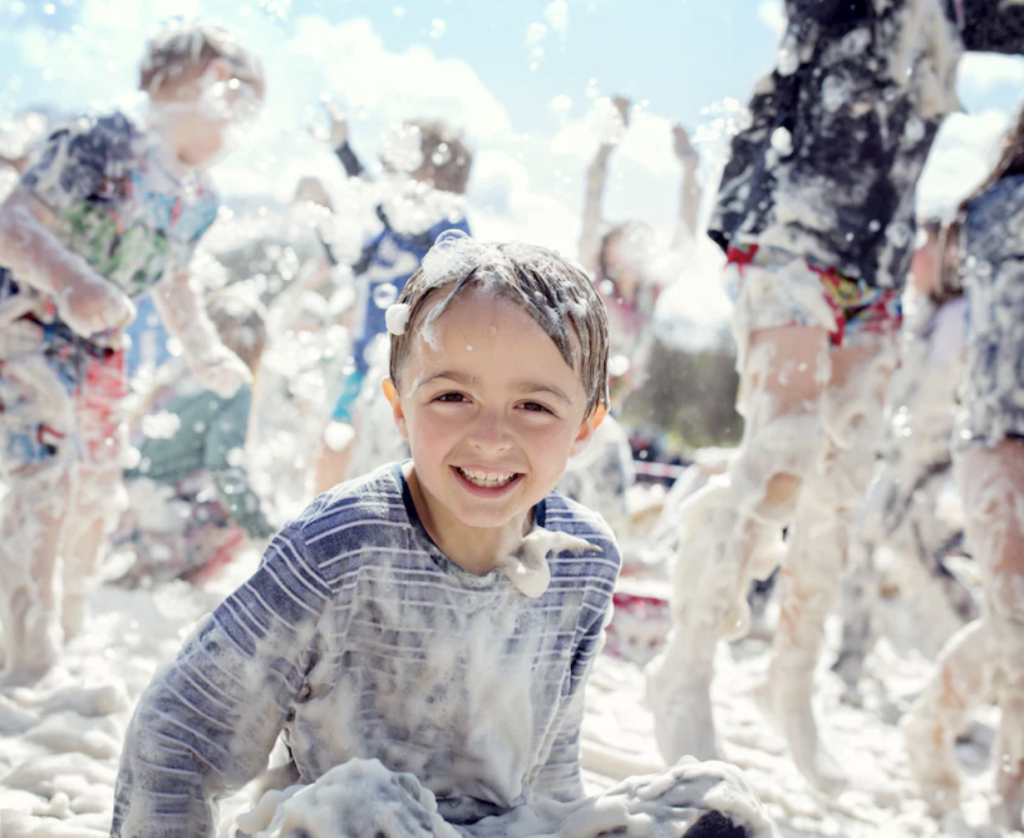 Call (985) 313-7327 To Book Your Foam Party Rental In Madisonville, LA